The Ultimate Guide to Making Money from Home: Freelancing, Online Tutoring, Content Creation, and More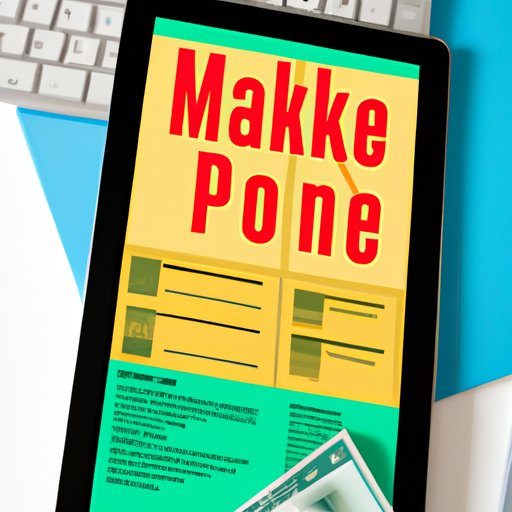 Learn the best ways to make money from home, such as freelancing, online tutoring, surveys and testing, content creation, and online store. This guide provides valuable tips to help you succeed in your entrepreneurial pursuit.
The Ultimate Guide to Making Money from Home
With the current situation, more people are looking for ways to make money from home. Fortunately, there are plenty of options available from freelancing to online tutoring to content creation, and more. In this article, we'll explore various ways to make a living from home and share valuable tips to help you succeed.
Freelancing
Freelancing refers to offering your skills and services to clients on a per-project basis. This option offers flexibility, control over your schedule, and the ability to work from home. Freelancing jobs include writing, coding, designing, virtual assistant, and more.
Popular freelancing websites like Upwork, Fiverr, and Freelancer make it easy to find clients and showcase your skills. To improve your chances of getting work, create a professional profile that highlights your skills, experience, and expertise. Be sure to provide samples of your work, and customize your proposal for each job.
To be successful at freelancing, it's essential to have excellent communication skills, meet deadlines, and provide high-quality work. Engage with clients and ask for feedback to improve your skills and reputation.
Online Tutoring
Online tutoring involves teaching and mentoring students online. This option is ideal if you have experience in a particular subject like math, science, or languages. Popular online tutoring platforms include TutorMe, Chegg, and Varsity Tutors.
To get started, create a professional profile that highlights your skills and experience. Market your services on social media and customized your advertisement to the target audience. Provide quality services to attract more students and get positive feedback.
Remember to keep learners engaged and make your lessons interactive and fun. Continuously upgrade your skills to stay up to date with the latest teaching tools and techniques.
Surveys and Online Testing
Participating in online surveys and testing is an effortless way to make money. Companies use surveys and testing to gather data on products, services, and campaigns. Popular websites that offer rewards are Swagbucks, InboxDollars, and Survey Junkie.
To maximize revenue and manage your time effectively, sign up for multiple websites that offer surveys and testing. Be aware of scams and avoid websites that require you to pay a fee or provide personal information.
Set a target of how many surveys/tests you wish to complete each day to earn more. Some of these websites also offer bonus programs for consistent users and loyalty rewards, so ensure to read their terms and conditions to get the best deal.
Content Creation
Content creation involves creating digital content such as eBooks, videos, illustrations, and audio clips that you can sell on marketplaces such as Amazon, Upwork, Fiverr, and Etsy. If you have a passion for creating content, this option can be lucrative and exciting.
Create unique and engaging content that addresses the needs of your target audience. Avoid plagiarism and copyright infringement by using only original content or content you have permission to use.
Ensure to optimize your prices competitively, your content must stand out. Utilize category research to start creating, be sure to stay up to date on latest trends to generate the most traffic to your website or profiles. Continually upgrading your skills is necessary in this field as innovations in editing techniques and publishing tools often take place frequently.
Online Store
If you have a product you wish to sell, an online store is a great option to reach a broader audience. Creating an E-commerce website can be difficult, as it takes time and investment, however it's an excellent opportunity for a better income over time. Among the many steps needed, the most important is optimizing it for sales; you must obtain an attention-grabbing website design and visual style that convinces customers to buy.
Ensure you comply with legal and financial considerations such as taxation, copyright, and licenses. Build an engaged audience and market your products through social media, online ad services, and various third party marketplaces.
Drive traffic to your website, create a blog, and social media profiles to promote your products continuously. Continual follow up with your customers, and love for your product will be rewarded over time.
Conclusion
Whether you prefer freelancing, online tutoring, surveys and testing, content creation, or an online store, making money from home is achievable. To maximize your chances of success, select an option that aligns with your interests, skills, and personality.
Remember, it takes effort and dedication to build a successful business from home. Utilize the tips shared in this article and continue to learn and improve your skills.
Resources:
For more information on each topic, check out these resources:
– Upwork
– How to create an online store
You can also check out some inspirational blogs and articles related to such topics to boost your confidence to get started with your business.