How to Make Money Online: A Comprehensive Guide to Earning a Living from the Comfort of Your Home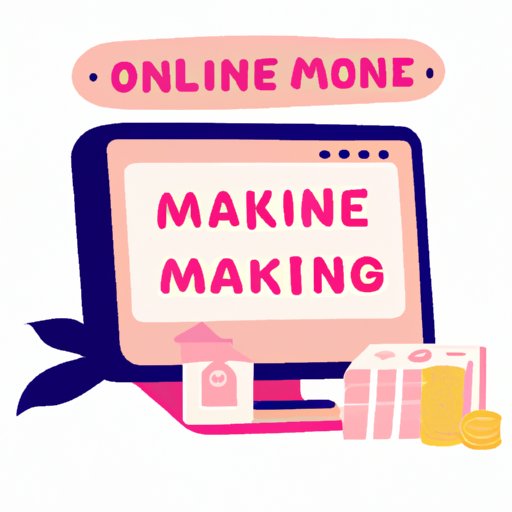 The internet offers numerous opportunities for individuals seeking financial freedom. This article explores various ways to make money online, including freelancing, selling online, affiliate marketing, online courses, survey sites, and virtual assistance. The article offers tips and tricks to make a career out of your passions.
How to Make Money Online: A Comprehensive Guide
The internet has opened up endless possibilities for individuals to make money from the comfort of their homes. The rise of technology has given birth to an array of opportunities for people seeking financial independence. With increasing numbers of people looking for work opportunities that offer flexibility and autonomy, making a career online is becoming increasingly popular.
Whether you are looking for a full-time job or a side hustle to supplement your income, this article will explore the various different ways to make money online. Here we will delve into the process of freelancing, selling online, affiliate marketing, online courses and surveys to give you a comprehensive guide on making money online.
Freelancing
Freelancing involves working on a project-by-project basis rather than being tied down to a full-time job. It gives individuals the freedom to work as much or as little as they want while earning a living. Freelancing is a lucrative way of making money, and the internet offers endless opportunities in this field.
You could offer services such as writing, graphic design, programming, or virtual support. Sites like Fiverr, Upwork, and Freelancer offer access to clients from across the globe, and they provide opportunities to bid for projects that match your skill set.
Building a strong portfolio is essential if you are looking to work as a freelancer. This means putting together a selection of your best work to showcase your talents, which will attract potential clients. Networking is also crucial; attending online events, and joining social media groups are great for connecting with other freelancers and finding new business opportunities. Lastly, pricing should also be considered – you must be aware of the going rates for your services to ensure that you do not price yourself out of the market.
Selling Online
Selling online is a great way to monetize a hobby or passion. Whether you create physical or digital products, the internet offers you an opportunity to reach out to clients from across the globe. Think about crafts, ebooks, courses, and digital products when considering what to sell online.
The first step in setting up an online store is choosing the right platform. Platforms like Shopify, Etsy, and Amazon allow you to sell your products successfully. Once your store is up and running, you will need to set up payment options and launch a marketing campaign to attract potential customers. Creating a niche is essential, as it allows you to differentiate yourself from your competitors. Competitive pricing, providing excellent customer service, and prompt delivery will keep your customers happy and encourage them to keep returning.
Affiliate Marketing
Affiliate marketing is a way of promoting other people's products to earn a commission. You can sign up with companies like Amazon, Commission Junction, and Clickbank, among others, to promote their products as an affiliate marketer. Once you find a suitable product, you can write a review, create a tutorial, or recommend it to your followers. If a person clicks on your link and makes a purchase, you will earn a commission on the sale.
Building a strong following and using effective marketing strategies like email marketing, social media, and paid advertising is a great way to maximize your earnings as an affiliate marketer. Choose companies and products that align with your interests and values to ensure that you offer authentic recommendations.
Online Courses
Creating and selling online courses is a great way to make money online. Online learning is a growing trend, and people from across the globe are looking for courses to improve their careers or learn new skills. The first step in creating an online course is to choose a topic that matches your skills and expertise. Once you settle on a topic, you should create a comprehensive course outline that will guide the learning process.
Several platforms can host your course, such as Udemy, Teachable, and Thinkific, among others. Once your course is ready, you can start marketing it through social media and email lists. Positive reviews, testimonials, and referrals are crucial, as they will shape your reputation as a course creator and increase your customer base.
Survey Sites
Several survey sites offer opportunities for individuals to make money by completing surveys. Sites like Swagbucks, Survey Junkie, and Vindale Research will pay you for your time and opinion. Once you sign up for a survey site, you will be matched with a survey that matches your profile.
High-paying surveys should be your priority, and you should aim to complete them consistently. Signing up for multiple survey sites increases your chances of earning more money from surveys.
Virtual Assistance
Virtual assistance is another lucrative field in the online world. It involves providing administrative support to clients without necessarily being in the same location physically. Common virtual assistance tasks include data entry, responding to emails, social media management, and customer service. Freelance platforms like Upwork and Fiverr provide opportunities to find clients seeking virtual assistants.
Marketing yourself and building a robust profile are necessary when seeking high-paying clients. Offering additional services like social media management is another way of maximizing your earnings. Developing a good reputation through positive reviews and feedback can help to establish your brand as a virtual assistant.
Conclusion
The internet has opened endless possibilities for individuals seeking financial freedom. The online world offers various opportunities to make a living, from freelancing to selling online, affiliate marketing, online courses, survey sites, and virtual assistance. The key to success in these fields is putting in the time and effort required to establish your brand and build a customer base.
Encourage readers to try out different areas to find what suits them best. Remind readers that success won't come overnight, but if you put in the effort and dedication required to establish your brand, it can lead to financial freedom and flexibility for years to come.