How to Share iPhone Calendar: A Step-by-Step Guide to Collaborating and Streamlining Your Schedule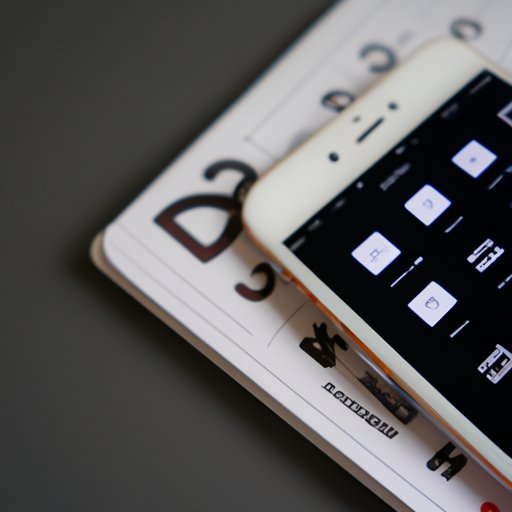 Sharing your iPhone calendar is simple and effective for coordinating events and schedules. Follow our step-by-step guide to learn how to share your calendar, organize your schedule, and streamline productivity today.
Introduction
Do you struggle to coordinate events and schedules with family members or colleagues due to conflicting schedules and busy lives? Sharing your iPhone calendar is a simple but effective solution to this common problem. In this article, we will guide you through the step-by-step process of sharing your iPhone calendar with others, whether it be individual events or full calendars, to help streamline your schedule and maximize your productivity.
Step-by-Step Guide: How to Share Your iPhone Calendar with Others
To share your iPhone calendar, it is important to use an Apple ID for sharing and syncing. This ensures that changes made to events or calendars are reflected immediately across all devices synced to your Apple ID. Here are the steps to share your calendar:
Open the "Calendar" app on your iPhone and tap the calendar you wish to share
Tap "Edit" and then "Add person" to add the person you want to share your calendar with
Choose the access level you want to give them (e.g. read-only or edit access)
Tap "Add" to send an invitation to the person
Once they accept the invitation, they will be able to view and edit your shared calendar on their device
If you encounter any issues, check that you and the person you are sharing with have each other's Apple ID added to your contacts. If this does not resolve the problem, try restarting your device or disabling and re-enabling iCloud.
Collaborating Made Easy: Use iCloud to Share Your iPhone Calendar
iCloud enables easy collaboration on calendars by allowing you to share them with anyone who uses an Apple ID. Here is how to share a calendar via iCloud:
Open the "Calendar" app on your iPhone and tap "Calendars" at the bottom of the screen
Tap the plus (+) sign to create a new calendar and give it a name
Tap the new calendar and toggle on "Public Calendar"
Copy the link and send it to anyone you want to share the calendar with
Once they click the link, they will be able to add the calendar to their device
iCloud Family Sharing is another useful feature for sharing calendars with family members. With Family Sharing, you can create a family calendar and invite all family members to share events and schedules. This is ideal for managing kids' schedules, planning family events, or coordinating tasks and chores.
Streamlining Your Schedule with Shared iPhone Calendars
Shared calendars are not only beneficial for personal life but can also be used for work-related schedules. Here are some tips for organizing and color-coding calendars to make them easily visible:
Label your calendars with specific categories (e.g. work, personal, vacation)
Choose colors for each event category for quick visibility (e.g. red for work, blue for personal)
Enable the "Show Declined Events" option to see all scheduled events
Customize event alerts and notifications to ensure timely attendance
Using shared calendars is a great way to manage multiple schedules, such as work and school. By sharing calendars, you can reduce double-booking and confusion, and ensure that everyone is on the same page regarding upcoming events and schedules.
Maximizing Productivity with Shared Calendars on iPhone
Shared calendars can increase productivity by providing a centralized location for scheduling and reducing time spent on email and phone communication. Here are some tips for setting notifications:
Set reminders for important events to receive push notifications
Create an alert for all events to ensure timely attendance
Enable "Time to Leave" to receive alerts regarding traffic and travel time
Siri can also be used to manage shared calendars hands-free. You can use voice commands such as "Add an event to the family calendar" or "What's on my work calendar for tomorrow?" to add or view events on your shared calendars.
No More Schedule Conflicts: Sharing Your iPhone Calendar for Group Events
Shared calendars can also be used to plan group events, such as meetings, parties, or vacations. Here is how to coordinate multiple calendars for seamless event planning:
Create a new calendar and share it with all event attendees
Assign an access level appropriate for each attendee (read-only or edit access)
Merge multiple calendars into one using the "Calendar Group" feature
Enable push notifications for RSVPs and event changes
When choosing the appropriate access level, consider the role of each attendee and the level of involvement required.
Effortless Planning: How to Share Your iPhone Calendar with Family and Friends
Shared calendars are also beneficial for family or friend groups, such as managing kids' schedules or planning social events. Here is how to invite and manage family and friends in shared calendars:
Create a new calendar and invite all family and friends to share events and schedules
Use location sharing to coordinate logistics for events and meetings
Add event comments for communication and coordination purposes
Location sharing and event comments can increase collaboration and communication between family and friends, resulting in more efficient and enjoyable group activities.
Conclusion
Sharing iPhone calendars is a simple but highly effective way to streamline schedules, reduce confusion, and increase productivity. By following our step-by-step guide, you can easily share your iPhone calendar with others, whether it be for individual events or full calendars. Organizing and color-coding calendars, setting notifications, and using Siri can also help you manage multiple schedules seamlessly. Lastly, shared calendars can benefit both personal and work-related schedules, making it an essential tool for productivity and collaboration.