How to Turn On iMessage: A Comprehensive Guide for iPhone and iPad Users | Benefits, Troubleshooting, and Privacy Features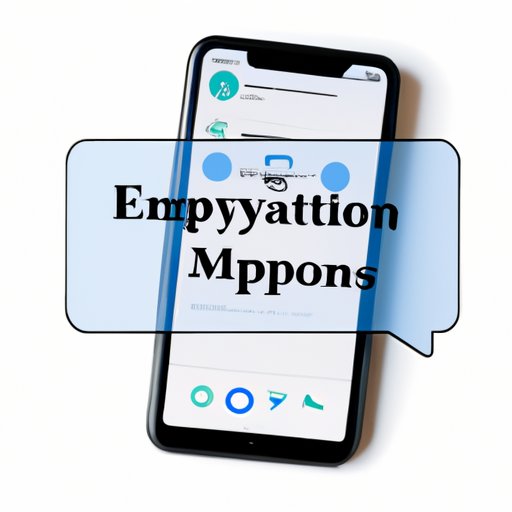 Learn how to turn on iMessage through a comprehensive guide for iPhone and iPad users, including its benefits, troubleshooting problems, end-to-end encryption, controlling message delivery receipts, using online third-party apps or handwritten messages, managing contacts and what to do with it. End your SMS messaging and say Hello to the most engaging iMessaging app brought to you by Apple.
I. Introduction
For many Apple users, iMessage has become the preferred way of communicating with friends and family. With the ability to send multimedia messages, enjoy end-to-end encryption, and sync messages across multiple devices, it's easy to see why. But if you're new to this messaging service, you might be wondering how to get started. This comprehensive guide will walk you through the process of turning on iMessage, as well as offer important information about the many benefits of this messaging service.
II. Benefits of Using iMessage
iMessage is an instant messaging service that comes pre-installed on all Apple devices, including Macs, iPads, and iPhones. It's a secure platform that lets you send text messages, photos, videos and more to anyone with an Apple device for free. Here are some of the key benefits of using iMessage:
Multi-device Messaging – You can send iMessages to any Apple device, anywhere in the world, as long as the recipient has internet access.
End-to-End Encryption – iMessages are encrypted from the moment they are sent until the moment they are received.
Read Receipts – You can see when someone has read your message and when they are typing a reply.
Free Multimedia Messaging – Unlike SMS messages, iMessages don't incur extra charges or fees for sending photos, videos, or documents.
III. How to Turn On iMessage
Ready to start using iMessage? Here's a step-by-step guide on how to turn it on:
Check Device Compatibility – Make sure your device supports iMessage. iMessage is available on all iPhones running iOS 5 or later, and all iPads running iOS 5 or later.
Update iOS – Make sure you have the latest version of iOS installed on your device. Go to Settings > General > Software Update to check for updates.
Enable iMessage – Go to Settings > Messages and toggle iMessage to the on position. If you see a greyed-out 'iMessage' option, it means your device hasn't been activated for iMessage. Tap on the option and follow the onscreen instructions to activate it.
If you're using an iPad, you may also need to provide your phone number for iMessage to work.
IV. Troubleshooting Guide
Encountering problems when trying to turn on iMessage? Here are some of the most common issues and how to fix them:
Activation Error – If you're getting an activation error when trying to turn on iMessage, make sure you're connected to the internet. If you're still having problems, try restarting your device or resetting your network settings.
Wrong Apple ID – Make sure you're signed in with the correct Apple ID. Go to Settings > Messages > Send & Receive to check your Apple ID.
Reset iMessage Settings – If iMessage still isn't working properly, you can try resetting it. Go to Settings > Messages and toggle iMessage off. Then, restart your device and toggle iMessage back on.
V. Privacy Features
iMessage offers several privacy features to ensure your messages are safe from prying eyes.
End-to-End Encryption – Every iMessage you send is encrypted from end-to-end. This means that only the sender and recipient can read the message.
Delivery Receipts – You can choose to receive delivery receipts, which let you know when your message has been delivered.
Controlled Read Receipts – You can choose to send read receipts, which tell the sender that you've read their message. Alternatively, you can choose to turn them off.
VI. Customization Options
iMessage offers a range of customization options to make messaging more enjoyable and fun.
Handwritten Messages – You can use your finger or a stylus to draw your own messages and send them to friends and family.
Animated Emojis – Spice up your messages with animated emojis.
Third-Party Apps – You can use third-party apps like GIPHY, Fandango, or Apple Music to incorporate multimedia content into your messages.
VII. Managing Contacts
iMessage can be a valuable tool for managing your contacts.
Sync Across Devices – If you have multiple Apple devices, iMessage allows you to sync your contacts across them.
Add and Manage Contacts – You can easily add, delete, and manage contacts within iMessage, making it a hassle-free way to stay in touch with people.
VIII. FAQ
Here are some answers to frequently asked questions about iMessage:
How much data does iMessage use? – iMessage use your Wi-Fi or Cellular Data network to send messages, so it depends on its usage.
Can I turn off read receipts? – Yes, you can. Just go to Settings > Messages > Send & Receive > Turn off send read receipts.
Can I message someone who doesn't have an Apple device? – Yes, but then it will work as a regular SMS message.
IX. Conclusion
iMessage is a powerful messaging service that offers many benefits, from multimedia messaging to end-to-end encryption. By following the steps outlined in this comprehensive guide, you'll be up and running in no time. And with so many customization options, privacy features, and the added bonus of syncing contacts, iMessage is a messaging app that's definitely worth trying.